Tom Pollard Designs has years of experience working with fundraisers all across the country to develop successful fundraisers.
If your looking for Ways to Save, we can help you with a custom ornament to commemorate the event with a treasured, keepsake ornament.
Money Saving Fundraisers
If you are interested in an ornament for your group but find that the $395 Art and Tooling Set-up fee does not fit your group's budget check out these other ways to make an ornament. They may not be a custom ornament designed from the beginning for you but there are so many ways to personalize an ornament and make it your own.
Design Ready Ornaments
When you pick our Design Ready Ornaments, you will save both time and money, while reaping the benefits of a beautifully crafted ornament. We offer gold or silver plating of 6 outer rings and 6 inner rings featuring carefully crafted blank spaces for customization. That's 72 possible designs that you can create with your group's unique information. Whether the ornament is for a Church anniversary, high school reunion, or business function (among other endless events) our Design Ready Ornaments are a perfect keepsake. This option forgoes the $395 Art and Tooling fee, instead requiring only $.10 per ornament with a (one-time) $100 color set up charge plus the cost of the ornament. By doing this when buying 100 ornaments you save $285. Check out our step-by-step guide of all the available options or contact one of our experts.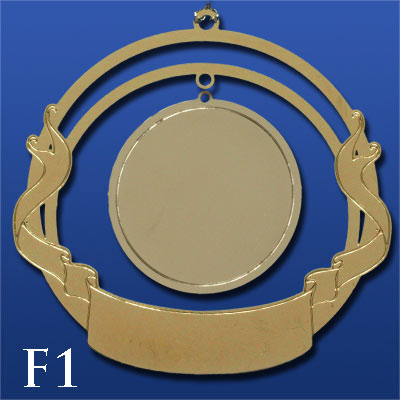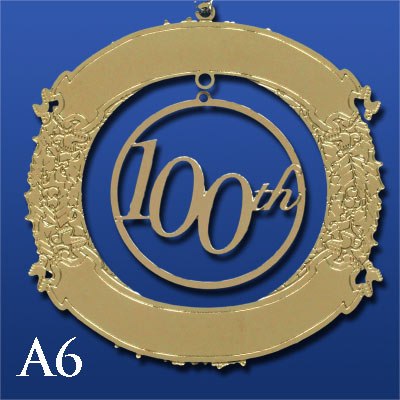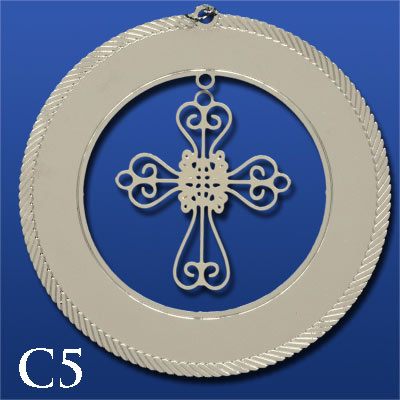 Custom Wooden, Acrylic, Slate or Glass Ornaments
Take a look at some wooden, acrylic slate or glass ornament options for your group. These can be a great way to create a different kind of ornament in your series or an alternative to the brass ornaments we offer.
The Wooden or Slate ornaments are produced in a slightly shorter time period than our brass ornaments. The Glass ornaments can be in your hands in about a month so this can be great idea if you're short on time!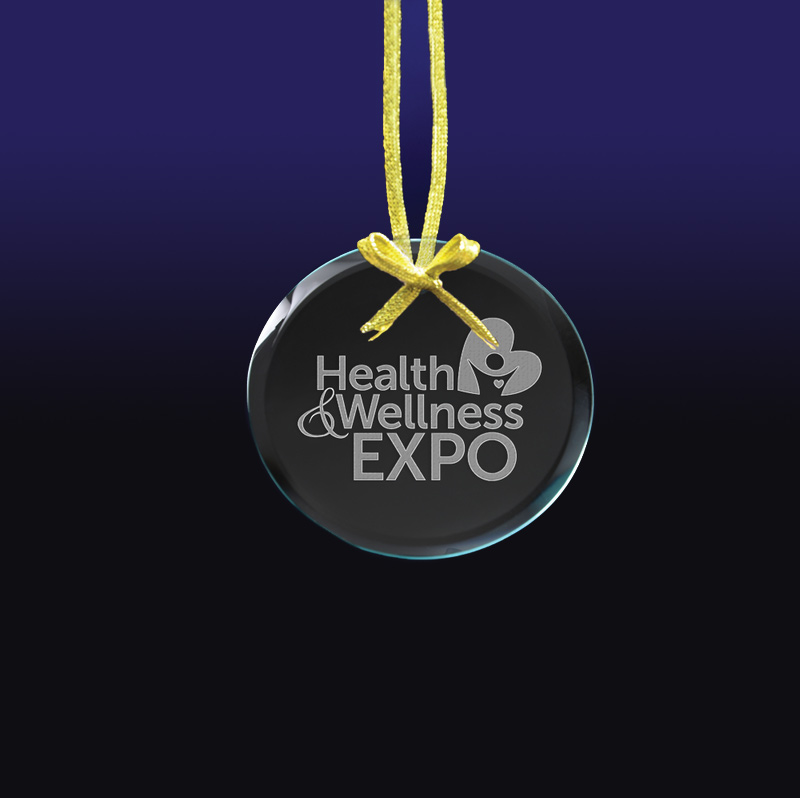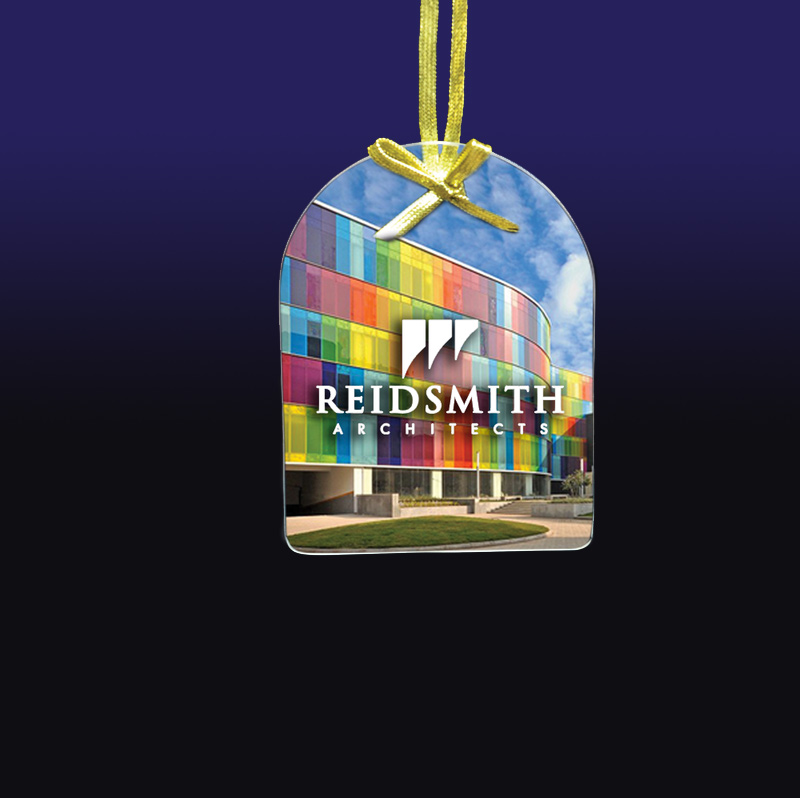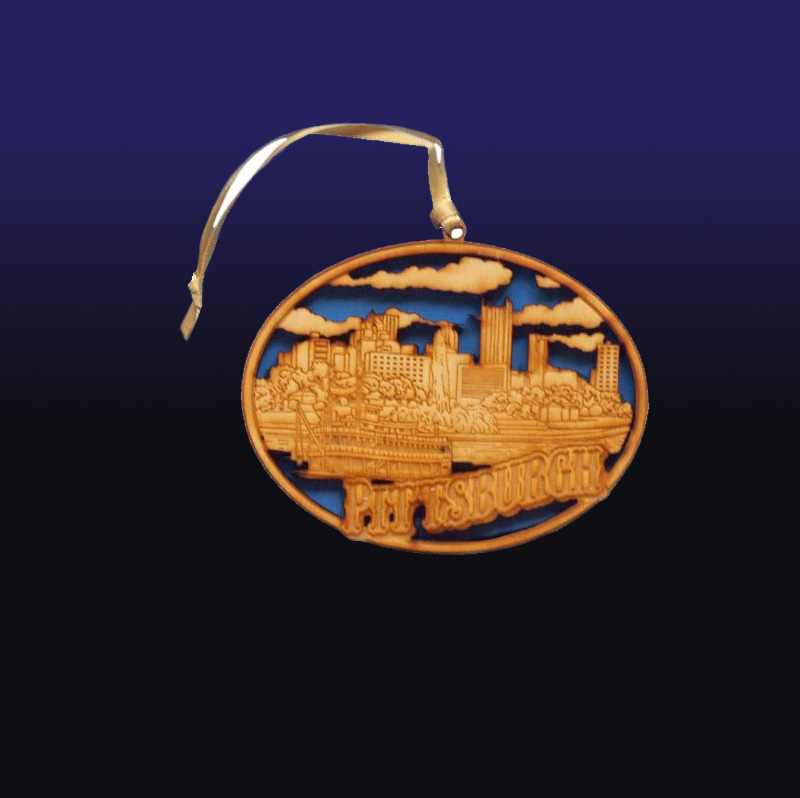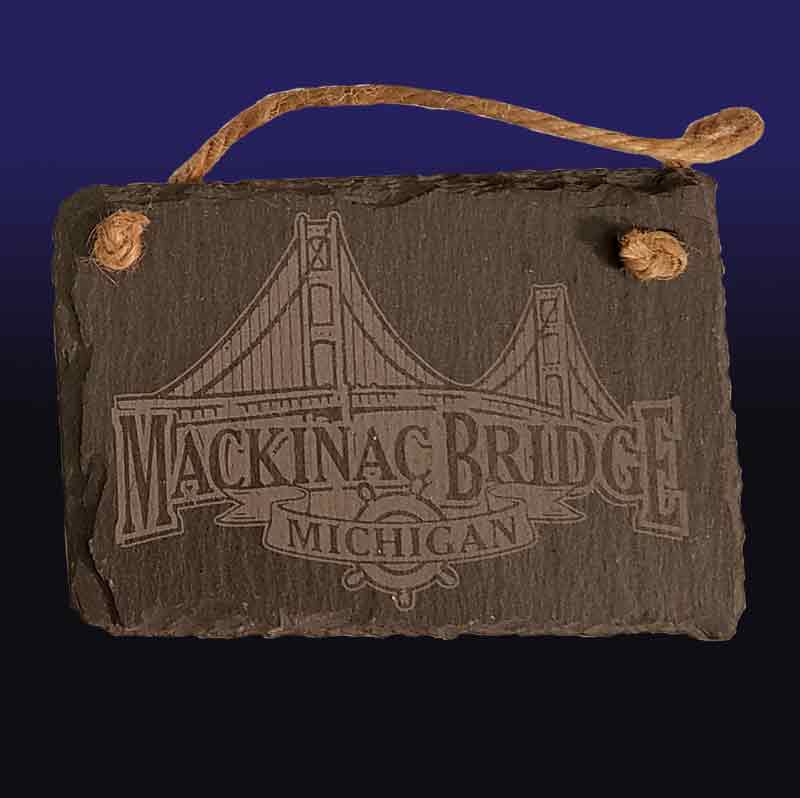 Change and Retool an Ornament
Use artwork that we have on file, from either a store ornament or a previously designed ornament. Make a few small changes to personalize the artwork to fit your needs. These changes can include but are not limited to changing a date, adding your name or adding a dangling piece. This can add a personal touch without having to pay the full Art and Tooling fee. With only a $200 retooling fee, you save $195. Not all parts of ornaments can be altered so call 800-231-4788 or contact one of our experts to discuss the changes you want.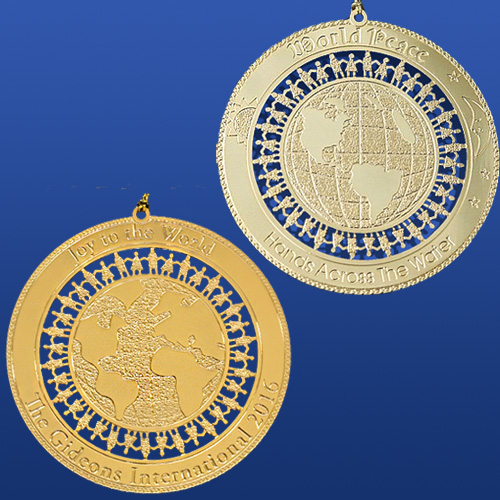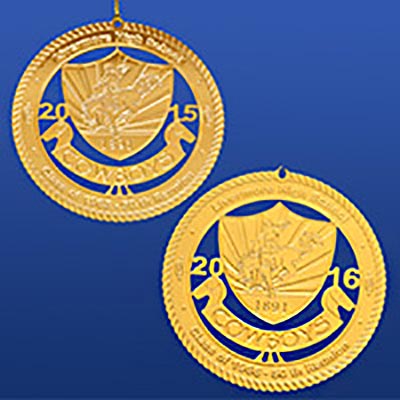 Silkscreening Predesigned ornaments
Add your name or logo to one of the 3 ornaments pictured below. Pick your groups or your favorite color and get a custom silkscreen created. We use the Pantone Matching System, which has a wide range of colors to choose from. There is a $100 one time set-up fee, plus $.10 per ornament. By doing this when buying 100 ornaments you save $285. Even choosing to add 2 colors can save you $175. Call 800-231-4788 to start your ornament today or contact one of our experts.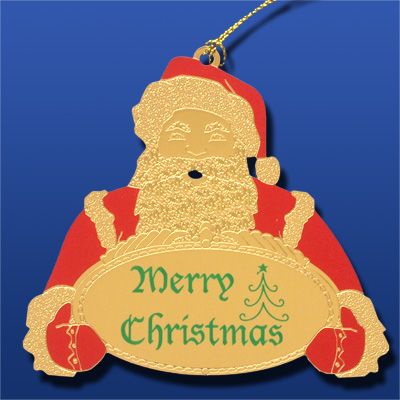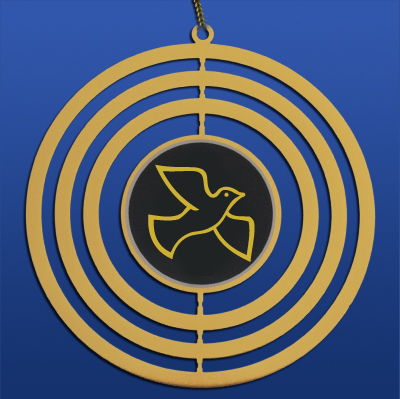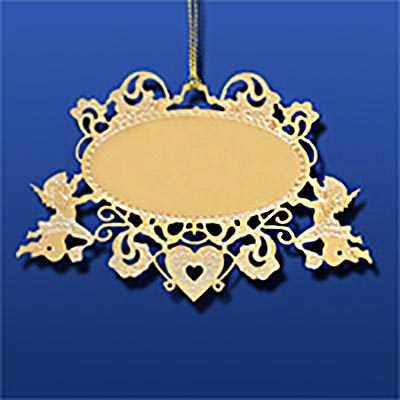 Ordering Large Quantities from the Store
Tom Pollard Designs has spent over 25 years building our store's selection of ornaments to make unique keepsakes for consumers across the United States. There are currently almost 200 ornaments in our Store so you may be able to find one that is perfect for your group. We can make a custom Information Sheet for the back of the box. The Information Sheet fits about 120 words and we can put anything you'd like. Usually a gray-scale of the ornament is in the background but we can add any image to your custom sheet. There is no minimum order. If you have any questions or would like to start call 800-231-4788 or contact one of our experts.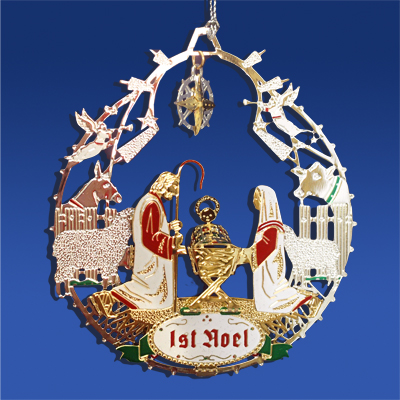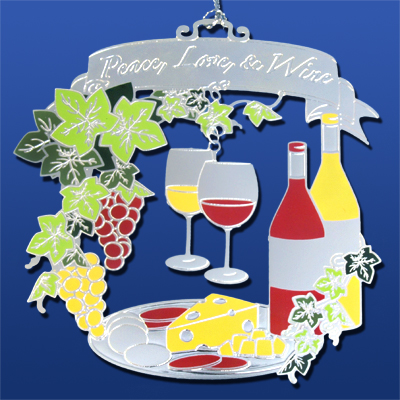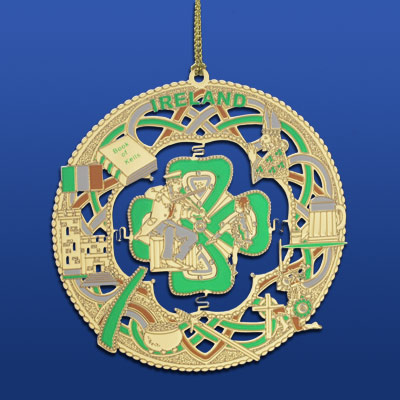 Early Bird Special
Our art department and production team are busy all year but from August until the end of the year they are overloaded. In order to lighten the load during the busy season we started offering a sale to encourage customers to start in the first quarter (January1st to May 1st). This sale is available to any group that is starting a new custom ornament. Get $100 off your Art and Tooling fee OR Receive one FREE color that is valued at over $100.
Starting early helps everyone. Our art department and production team can spend the time on your artwork and ornament that it deserves and you save money. Another benefit is that by getting your ornament done early you have them in your hands and ready for the Christmas season. Call 800-231-4788 to start your ornament today or contact one of our experts.
Sign-up for a reminder email: Click HERE!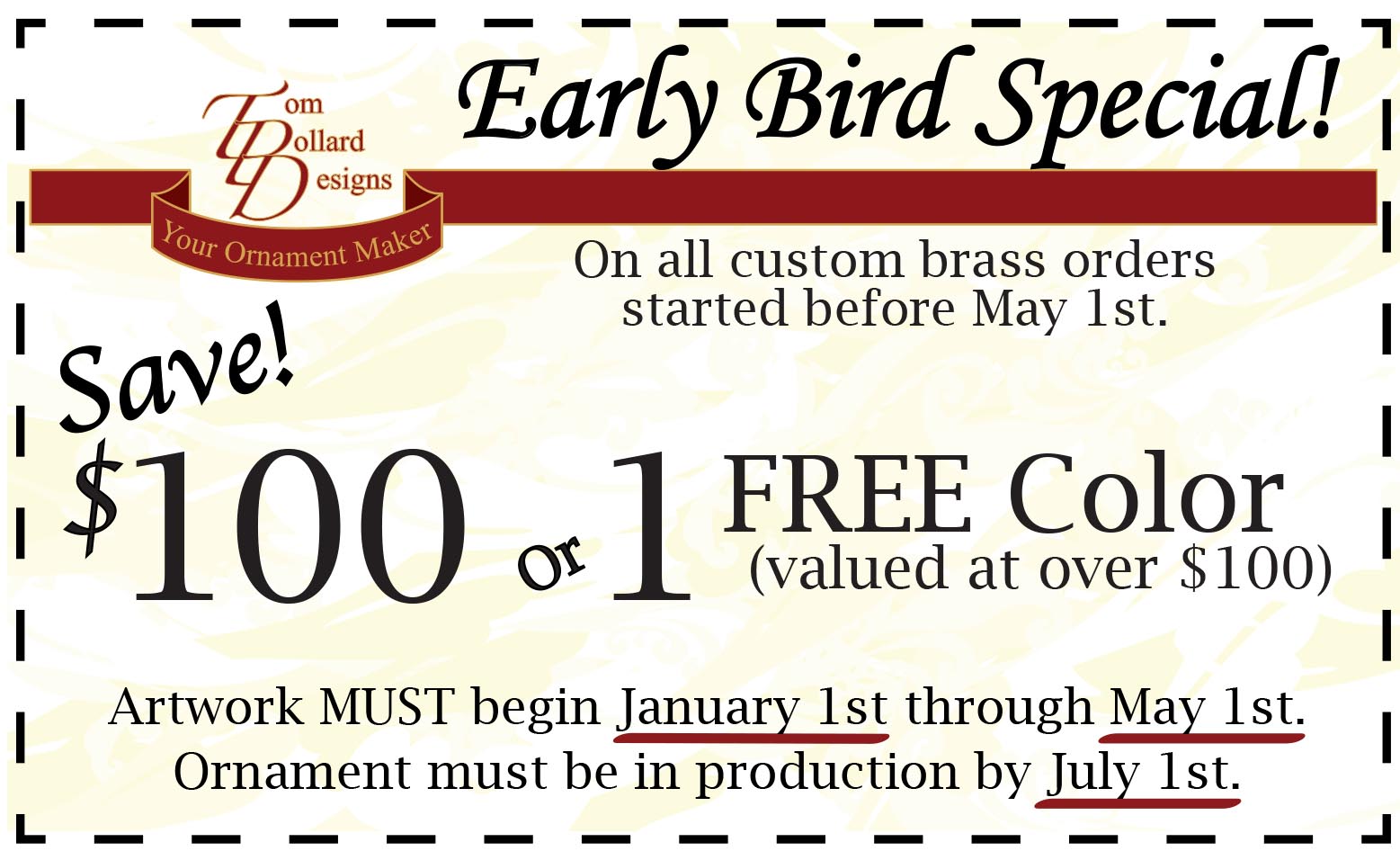 The Affiliate Program
Joining the Affiliate Program is FREE and easy. The way it works is you encourage your group and supporters to purchase ornaments, stands, boxes or gift cards from our website. When your supporters are checking out they use a coupon code which will record the sales. You receive 25% of the proceeds quarterly. That's it! Promoting your fundraiser through your website, social media or flyers is the only work you need to do. We take care of the rest. Check out all the great ornaments in Our Store. Call 800-231-4788 or contact us to speak with one of our experts.