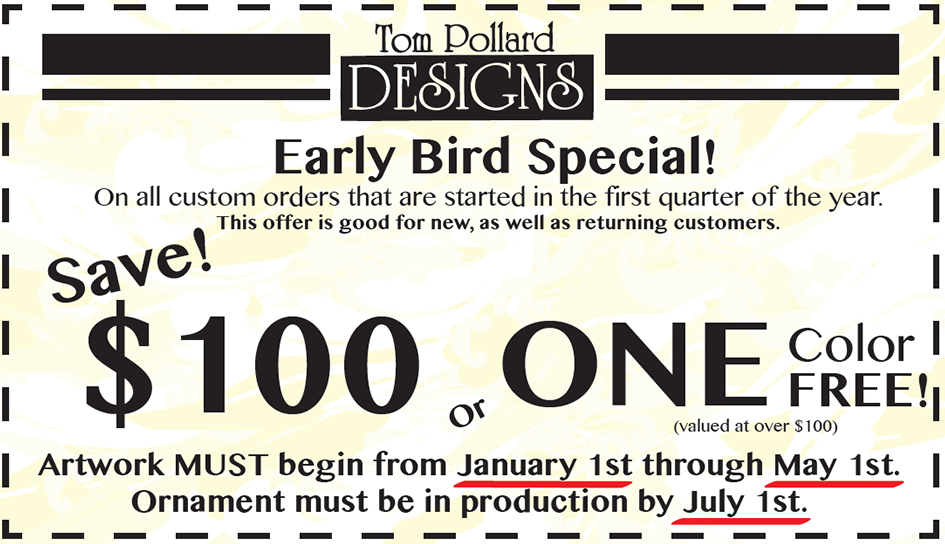 "We create unforgettable, one-of-a-kind ornaments to commemorate special events, anniversaries and more.
Each ornament has its own character, its own life, and is designed specifically for you, our customer. We know that creating a custom ornament can be an involved process which is why one of our experts works with you throughout the entire process. Our goal is to bring your idea to life in a beautiful and individualized way.
On these pages, we provide examples of the creativity and craftsmanship you can expect from our company. Call us at 800-231-4788 to start your ornament today or contact one of our experts to ask for a FREE sample pack."
-- Tom Pollard, Owner
Pricing for Custom Brass Ornaments
Each piece is an individually commissioned work of art, and as such, costs vary based upon the factors listed below. Payment is required prior to shipping.
Here are five general things you'll see on a Custom Ornament invoice:
1Set-up Fee
Art and Tooling Fee: $395 (does not apply to reorders)
There is a $200 non-refundable deposit to start artwork. This is the art portion of the Art and Tooling, not an extra fee.
You receive Two Free Edits. Group all your changes together as much as possible. Additional edits incur a fee.
2Ornaments
Single Piece Ornaments
A minimum order of 50 pieces applies to all custom ornaments.
These prices apply to all styles except the multi-piece ornament. See examples on our Styles and Options page.
50 to 99 pieces $10.00 each
100-199 pieces $7.00 each
200-299 pieces $6.50 each
300-399 pieces $6.00 each
400-499 pieces $5.50 each 
600-999 pieces $5.00 each
1000-1499 pieces $4.88 each
1500-1999 pieces $4.75 each
2000+ pieces $4.60 each
Multi-Piece Ornaments
A minimum order of 100 pieces applies to all multi-piece ornaments.
100-249 pieces $9.00 each
250-499 pieces $8.50 each
500-749 pieces $8.00 each
750-999 pieces $7.75 each
1000 pieces $7.50 each
See examples on our Styles and Options Page.
Add-ons
Color can be added to any piece for $100 set up fee per color plus 10 cents per color per ornament.
3Boxes and Displays
See our Boxes and Display Page for more photos and more information.
Free Sleeve for flat or dangle style ornaments (packaged by you)
Black Slimline Felt Box (Square) - $.70 each
Black Slimline Felt Box (Rectangular) - $.90 each
Gold Foil Deluxe Box - $3.50 each (for either the 3-3/8" x 3-3/8" x 1/2" or 4.5" x 4.5 insert.)
V stand for Display - $0.65 each 
Single Ornament Hanger - $1.95 each 
4Information sheet
This sheet will be included for free in the packaging of each ornament.
Many groups use this space to tell their organization's story, share their motto, or recognize employees and supporters
The sheet fits about 120 words. Rectangular sheets can be used with the free sleeve and fit about 175 words.
5Shipping
Free shipping to one location is included
If you would like help shipping to individuals please contact us for pricing and instructions.
Mascot Ornaments Pricing
Our Mascot Ornaments not only provide high quality pieces that will be treasured for years to come, but can be the focus of a unique fundraising drive sure to catch the attention of local boosters and fans!
Mascot Ornaments enjoy the following special benefits:
No charge for Design and Art Production.
1 Color added to your silver or gold-plated ornament for FREE!
Free Sleeve for packing included (customer assembles)
Easy reordering months or years down the line.
A minimum order of 200 pieces applies to all mascot ornaments.
200 or more pieces $6.50 each
Total Amount for a Mascot Ornament- $1,300 ($6.50 each)
When compared to a Custom Ornament you save over $500.
See our Mascot Ornaments page for details.
Custom Ornament Pricing Examples
Below lists out general pricing quotes for our most common quantities of custom ornaments. For each quote, you will see the Total Price consisting of the one-time Art & Tooling fee and the cost of the ornaments, as well the total cost per ornament. Estimates for adding the felt box or one color are also included at the bottom of the quote.
Contact Us if you'd like a personalized firm quote!
Single Piece Ornaments
100 Ornaments
Art and Tooling ..........$395
100 @ $7 each............$700
FREE Sleeve
FREE Info Sheet
FREE shipping
TOTAL------$1,095 / $10.95 per ornament
ADD Felt box for $70
ADD One color for $110
200 Ornaments
Art and Tooling................$395
200 @ $6.50 each..........$1300
FREE Sleeve
FREE Info Sheet
FREE shipping
TOTAL-------------$1,695 / $8.48 per ornament
ADD Felt box for $140
ADD One color for $120
300 Ornaments
Art and Tooling..............$395
300 @ $6 each..............$1800
FREE Sleeve
FREE Info Sheet
FREE shipping
TOTAL--------------$2,195 / $7.32 per ornament
ADD Felt box for $210
ADD One color for $130
400 Ornaments
Art and Tooling ..............$395
400 @ $5.50 each.........$2200
FREE Sleeve(flat and dangle style only)
FREE Info Sheet
FREE shipping
TOTAL--------------$2,595 / $6.49 per ornament
ADD Felt box for $280
ADD One color for $140
600 Ornaments
Art and Tooling (one-time fee)...................$395
600 @ $5 each........................................$3000
FREE Sleeve(flat and dangle style only)
FREE Info Sheet
FREE shipping(to one location)
TOTAL---------------------------------------------$3,395 / $5.66 per ornament
ADD Felt box for $420
Multi Piece Ornaments
100 Ornaments
Art and Tooling ................$395
100 @ $9 each...................$900
100 felt box @ $.70 each....$70
FREE Info Sheet
FREE shipping
TOTAL------$1,365 / $13.65 per ornament
ADD One color for $110
250 Ornaments
Art and Tooling ........................$395
250 @ $8.50 each...................$2125
100 felt box @ $.70 each.........$175
FREE Info Sheet
FREE shipping
TOTAL------$2,695 / $10.78 per ornament
ADD One color for $125
500 Ornaments
Art and Tooling ....................$395
500 @ $8 each...................$4,000
500 felt box @ $.70 each.....$350
FREE Info Sheet
FREE shipping
TOTAL------$4,745 / $9.49 per ornament
ADD One color for $150
750 Ornaments
Art and Tooling ....................$395
750 @ $7.75 each..............$5,812.50
750 felt box @ $.70 each.....$525
FREE Info Sheet
FREE shipping
TOTAL------$6,732.50 / $8.98 per ornament
ADD One color for $150
1,000 Ornaments
Art and Tooling ............................$395
1,000 @ $7.50 each...................$7,500
1,000 felt box @ $.70 each..........$700
FREE Info Sheet
FREE shipping
TOTAL------$8,595 / $8.60 per ornament
ADD One color for $200