"We create unforgettable, one-of-a-kind ornaments to commemorate special events, anniversaries and more.
Each ornament has its own character, its own life, and is designed specifically for you, our customer. We know that creating a custom ornament can be an involved process which is why one of our experts works with you throughout the entire process. Our goal is to bring your idea to life in a beautiful and individualized way.
On these pages, we provide examples of the creativity and craftsmanship you can expect from our company. Call us at 800-231-4788 to start your ornament today or contact one of our experts to ask for a FREE sample pack."
-- Tom Pollard, Owner
Ornament Styles and Options
Below is a list of the unique design options we have for you to choose from. Dimensional Style, Shape, Plating, Ribbon, Color, and Gems are all things to consider when creating a custom ornament. Some styles are able to be combined into the same ornament. Once you have a chance to review the options, we will be happy to answer any additional questions and help you decide which styles are best for your group.
Choose a Style
Flat Ornament
Flat ornaments are a classic, elegant style. It is a single sheet of brass metal cut out into your unique shape, etched with a design and then gold or silver-plated. Texturing and piercing of the metal can enhance this style. We offer a FREE sleeve for this style but have other box options if you wish.
Dangling Ornament
Add a little flare to make your ornament stand out by having a dangling ornament. These ornaments have a jump ring that attaches two pieces of metal. This allows one piece to hang freely and turn. There is no extra charge for a dangling ornament. We offer a FREE sleeve for this style but have other box options if you wish.
Pop-Up Ornament
Pop-up ornaments add an extra dimension and depth to your ornaments. Small curved pieces, called "S" connectors, allow parts of the ornament to extend forward or backward. There is no extra charge for pop-up ornaments, but you won't be able to use our free sleeve, because the ornament could get damaged.
Bending Ornament (Fold or Twist)
Placing folds or twists as parts of the design can create a dimensional ornament. There is a 90° limit, but this style can really make a lasting impression. There is no extra charge for a folding or twisting ornament, but you won't be able to use our free sleeve, because the ornament could get damaged. Depending on the design your choice in boxes can be limited.
Multi-Piece Ornament
To create an exquisitely dimensional ornament you may want to consider a multi-piece ornament. To make these, two pieces of metal are cut out, etched and plated. The pieces are then overlapped and connected together with metal tabs.
Pricing for multi-piece ornaments differ from other styles due to the additional metal and assembly required.
Decal Ornament
To produce an ornament with multiple colors you might find that a decal ornament is the perfect choice. Adding color to brass is charged at a rate per color per ornament. However, a full-color image is included in the price of the decal. The embossed decal creates a detailed photo quality reproduction of your group's building, rose window, or illustration with a glossy finish. The decorative decal adheres to the brass with a strong and durable epoxy.
Pricing for decal ornaments differ from other styles due to the added decal and assembly required.
Choose a Shape
Round
Round ornaments work best with buildings, logos or any other design that has the same height and width. You wouldn't want this if your design were very long or tall.
Square/Rectangle
Depending on the shape of your building or logo a squared shape can help show more of the small details.
Oval
An oval is great for long or tall buildings and logos. It helps to make your design larger and more detail is visible.
Freeform/Other Shapes
We can make any kind of custom shape you want. Here are just a few examples.
Choose Plating
Picking the plating color of your ornament can be a very important part of customizing your ornament. You are able to get some of your order in gold and some in silver (50 ornament minimum).
Silver
Great for silver jubilees or to make your ornaments have a distinct appearance. If you plan to add a printed yellow color (like for a logo), silver plating is a better option.
Gold
Gold is the most popular plating option. Great for golden anniversaries and more!
Copper
The below town, Bucyrus, was home to a big name copper factory. Next to it is St. Stephen which features an elegant copper ceiling. Copper plating won't fit some groups but for others it's the perfect fit!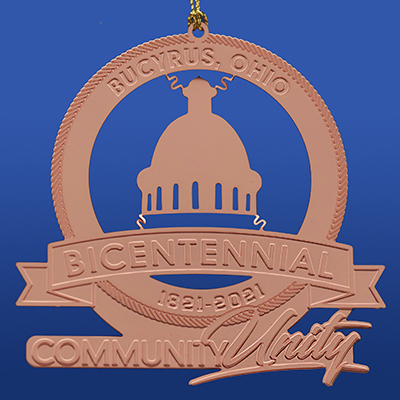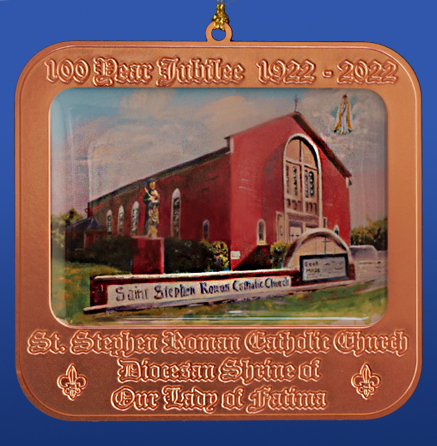 Add a Ribbon
Choose between a string or ribbon to accent your ornament. Our strings are available in gold or silver and default to match the plating of your ornament. Ribbons come in red, purple, light blue, green, white and black. There is no additional cost for those color ribbons. The red, white, & blue patriotic ribbon is a slight extra cost.
Add Colors
Adding a color can enhance your ornament design. Our colors are added using a silkscreen process. We use the Pantone Matching System and have a wide range of colors to choose from. For each color there is a $100 set-up fee plus $.10 per ornament. If you are interested in a full-color decal ornament, color is included in the price of the decal. Regular color pricing applies to adding color to the brass sections of a decal ornament.
If you think your design will need to be changed and reused but don't want to pay a retooling fee this can be done by changing your color design. Instead of etching in your group's numbers, a year or other specific information, silkscreen it on. A silkscreen can be changed with no retooling fee. This would have to be worked into your original design.
Add a Gem
A gem can add a small sparkle of color to any ornament. Our gem selection is sure to have your business, church or school colors. When designing we add a raised circle area as a setting for your gem. Each gem is $.50 extra.